We went to see Navistar LPGA Classic and took a picture with 2nd place winner Lexy Thomson. This International Intern Program is not just about learning as an intern, but also about having fun experiencing all these cool things on the side.

Beom Seok and Kyu Eyul from South Korea
Engineering Intern in Montgomery, Alabama
It was the best summer I have ever had in my life.

Manuel from Mexico
Summer Work Travel participant in Louisville, Kentucky
I have thoroughly enjoyed working at the law firm where I have been presented with a number of challenging tasks to complete. My skills and expertise in this particular area of private client law have been greatly enhanced…

Daisy from United Kingdom
Summer Work Travel participant in Austin, Texas
I have been having such a great time and learning a lot about American culture.

In Sung from South Korea
Logistics Intern in Rancho Dominguez, California
I hope that other people will take advantage of the opportunity to experience this life changing program. I will never forget my valuable experience in America. I would like to extend my gratitude and appreciation to ICCE for helping me to refocus on what is important in my life.

Ju Yeol from South Korea
Administrative Intern in Lyndhurst, New Jersey
Participating in the International Intern/Trainee program was one of the best decisions I have ever made. I wish I could stay longer but now it is time for me to go home. Thank you, ICCE!

Federico from Argentina
Logistics Trainee in Doral, Florida
Because of ICCE's professionalism, once I moved to California four months ago, I reached out to continue the relationship and hire international interns/trainees at my new property. ICCE always makes sure that I am satisfied with the quality of candidates they are providing and always provides support when any unforeseen situations happen, such as a participant who was leaving early due to personal issues at home. ICCE's staff works tirelessly to maintain the integrity of the International Intern/Trainee Program. They build relationships with hotel partners like me to create the best experience for everyone involved. The best part is that the staff truly CARES for both the hotel partner and the program participants!

I'd like to recognize my international interns/trainees who have worked with me at the Hilton over the years. When there was a big snow storm, it was my international intern's who worked next to me, covering the multiple shifts for three days in a row. I still saw them smiling to my guests even when they were tired. They always stayed positive and energetic, which affected our other staff and our guests. The program participants' dedication and work ethics are the main reason I hire them in my hotels. Each program participant whom I had the pleasure to work with stands out on his/her perseverance to make it happen for the hotel, guests and themselves, while sharing their cultures with us. As much as they have learned from me, my staff and I learned a lot from each of them.

I am truly honored having my international intern/trainee's train with me at my hotel. I appreciate ICCE and their staff for their dedication to the success of this program!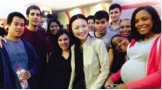 Miah
Director of Operations at Hilton
Working with ICCE over the past 4 years has been beyond rewarding as an HR practitioner. Aside from getting the opportunity to work with ICCE's staff, who care as much about other individuals' career paths as much as I do… I have had the opportunity to speak, meet, and hire talent from all areas of the globe that I typically would not have direct access to outside of our partnership.

The students that ICCE works with are ambitious, smart and committed to learning and working hard here in the U.S. In my experience, every individual we have hosted here at BFM has brought recognizable value to the team they work with and the projects they work on. It is rewarding in itself to offer them the opportunity to explore a new country and culture; their work ethic is truly remarkable!

I look forward to continuing our partnership and enabling student global talent to experience working at a digital agency in the city that never sleeps.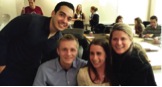 Samantha
Director of Human Resources at Blue Fountain Media
On behalf of H Mart, I'd like to recommend International Culture and Career Exchange (ICCE) as a reliable and trustworthy partner. The International Intern Program facilitated by ICCE has been a great addition to our company. In an effort to ensure the success of the program, ICCE has gone to great lengths to explain the program nuances to our staff and answer all of our questions. We have found them to be highly professional, detail oriented, and sincere.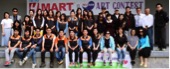 Peter
Human Resources Director at H Mart